George 'Boer' Rodel – Never fought as a pro in SA By Ron Jackson
History has not been kind to Lodewikus van Vuuren, a good amateur boxer. Nor to George Boer Rodel, a more than useful professional. Actually, they were the same person; a farm boy from the Free State who fought some famous heavyweights before he died in New York, having cut all ties with his family back home. Van Vuuren was born in the Free State town of Smithfield on September 14, 1887. When he died in Brooklyn on June 6, 1955, he was remembered as George Boer Rodel, the name he had used as a professional boxer.

Lodewikus, nicknamed "Poen" by his family was the youngest of five brothers and as a fourteen-year-old, he was jailed by the British during the occupation of Dewetsdorp. He caused the commanding officer, a Major Wright a number of problems because with a Basuto playmate they would gallop through the main street in the middle of the night shouting: "Die Boere kom!" causing much consternation.
He was subsequently released from jail by General Christian de Wet when Dewetsdorp was briefly re-taken by the Republicans. As a young amateur in South Africa, Van Vuuren won against and lost to Fred Storbeck, who also won a British amateur title and as a professional held the SA heavyweight title on two occasions.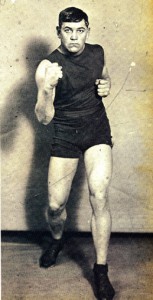 Rodel never fought in South Africa after turning professional. His first recorded professional fight was a point's win over Seaman Fred Parsons in London on March 15, 1911. Over the next three years, he did fairly well in England, beating respected fighters such as Seaman George Pascal, Matthew PO Curran and Joseph Jewey Smith. However, he was well beaten by Americans Sam McVey and.
On December 6, 1912, Rodel was knocked out in the second round by Englishman Bombardier Billy Wells when they fought for the British Empire heavyweight title at the King's Hall in London. It was later reported that Rodel had fallen and sprained his left shoulder two days before the bout.
TOO GOOD FOR THEIR OWN GOOD
Sam McVey and Joe Jeanette, and Sam Langford formed a trio of black American heavyweights who were too good for their own good in the United States. Unable to find other opponents back home, they had to travel abroad to keep active. McVey fought Jeanette five times and met Langford on 15 occasions. Jeanette went in against Langford 13 times.
MANAGED BY 'THE BOY BANDIT'
After his loss to Wells, Rodel moved to New York to try further his career. In his first fight, he stopped Art Nelson in eight rounds. Rodel was managed in America by Liverpool- born hustler Jimmy Johnson who was not called the Boy Bandit for nothing. He shrewdly engineered the career and modest achievements of the giant Free Stater.
According to Johnston's biography, Wise Guy, written by Marcus Griffin and sub-titled Rhapsody in Fistics, Johnson "had a life-long romance with himself". He was a master raconteur and excellent publicist for his fighters. When he met the South African, the first thing Johnson did was to drop the name George and market the fighter as Boer Rodel.
He told newspapers reporters that Rodel had been a boy hero at the battles of Spioenkop and Ladysmith during the Anglo-Boer War. Rodel was about 13 years old when those battles took place. It was, however, reported that the 12- year-old Poen van Vuuren, as he was known then, had joined a commando under Veldkornet Wessels, later Commandant, of Harrismith.
As a result of the ramblings of his manager, Rodel was sometimes made out to be a buffoon and stumblebum, but he met some of the best heavyweights around and won as often as he lost. The tall South African was a good puncher and aggressive fighter.
TRILOGY AGAINST JESS WILLARD

Among the top fighters he faced were Jim Coffey (lost by TKO in the ninth round) and Ed Gunboat Smith, twice (a no-decision over 10 round and a TKO defeat in the third). Rodel fought the famous Jess Willard three times. The first fight resulted in a no-decision over ten rounds and Willard won the others by knockout in the ninth and sixth.
However, their first fight at the Elite Rink in Milwaukee was reported as a newspaper decision for Rodel by the Milwaukee Free Press and Milwaukee Journal and the Cedar Rapids Gazette, The Fort Wayne News & Anaconda Standard (wire reports) called it a draw. They fought with 7 oz. gloves. The "newspaper decisions" came about because of the Frawley Law that restricted bouts to ten rounds and prohibited point's decisions of fights held in New York.
The no-decision law was designed to curb betting on fights. However, many punters found a way around that. They would agree to accept the opinion of a nominated newspaper reporter. These "newspaper decisions" gave the public some indication of the outcome of a fight.
Fights against Fireman Jim Flynn and Charlie Weinhart also resulted in no-decisions over ten rounds and Rodel lost to Carl Morris (ko 3) and Bill Brennan (TKO 3). Willard won the world heavyweight title in 1916 and Brennan challenged for the heavyweight title.
Rodel also came away with a ten-round no-decision result against Jack Fitzgerald, Dan Daily and Jack (Twin) Sullivan. But he beat Fred McKay (ko 7) and "Battling' Joe Woods (TKO 3).
Reports of Rodel's major fights indicate that he was a hard-hitting, courageous heavyweight who lacked the talent to extend the top fighters. After his last recorded fight, against Bill Brennan on May 4, 1915, at the Clermont Avenue Rink in Brooklyn he retired with a reported record of 26-16-3; 16. However, some sources have his record as 36-20-4; 18.
Rodel had long cut all ties with his family in South Africa. Some historians claimed that he had infrequent fights until 1920, but this has never been substantiated. He later worked in the Brooklyn dockyards as a longshoreman until he died at home in Brooklyn on June 6, 1955. No South African newspapers reported his death at the time.